Welcome To Our New Site!
WELCOME BACK TO OUR BLOG AND TO OUR BRAND NEW WEBSITE!
Where to start . . . well, it's been a verra, verra long time since we've sat at the keyboard for a dose of bloggery, and much has changed here on roundworld since our last post in March 2020, just days before the declaration of a global pandemic and two years of madness and sadness that followed it.
"Coming back to where you started is not the same as never leaving."
 – Terry Pratchett, A Hat Full of Sky
The Emporium is no longer the same place as its was before the global enbuggerance of Covid-19, and many of you will be aware of the closure of the Discworld Emporium's Bricks and mortar shop in Wincanton (read our original article here). Over lockdown our founders Bernard and Isobel had a taste of retirement, and it was found to be delicious, so at a combined age of 150 the Pearsons decided to step down from Emporium duties to spend a little more time with their families and begin a new chapter in their story. After 30 years in Discworld, and 20 years since opening the Discworld Emporium, the time seemed right.
Thanks to being in the business of distractions (mostly jigsaw puzzles and books) the Emporium's mail-order arm was inundated with orders over the height of the pandemic, and our shop floor completely transformed into a bustling mailroom. With Pearson's retirement and a booming online shop to manage, we made the difficult but sensible decision to move exclusively online. Our hallowed building is still our home and headquarters, but our 'real' shop is closed to the public for the foreseeable future.
Of course, Brexit also occurred in January last year. UK leaving the European has continued to present a mammoth-poo-sized pile of administrative, logistical and customer service challenges for our little literary shop as we contend with considerably more complex customs requirements and consequences.
To continue shipping to the EU we have taken on more team members, a brand new postage system, and built our brand new website to make shipping and accounting for global tax a smoother experience. At last we can utilise the EU's International One-Stop-Shop to include country-specific VAT at checkout for orders under £135 to minimise additional charges on delivery. We hope that our European customers can once again enjoy receiving Discworld books and merchandise with minimal stress, because gods know we've had quite enough of that over the past couple of years!
Since November Terry Pratchett's fans and the custodians of his work have been rejoicing in all things Pratchett in honour of 50 years since the publication of his first book, the Carpet People. Beginning with a 50th anniversary edition of the Carpet People in November, this year-long celebration sees the release of Terry's official biography A Life With Footnotes on September 29th, along with 40 Discworld audiobook adaptations from Penguin Audio with narration by Bill Nighy, Indira Varma, Andy Serkis and Sian Clifford.
Penguin Random House are also treating us to entire Discworld series being released with new paperback editions. featuring cover artwork by Leo Nickolls. These striking new liveries are designed to entice a new audience to Discworld, and have been created under the direction of Terry Pratchett's estate and feature elements based on the character designs of Paul Kidby. Purists need not worry though, as the new paperbacks will sit alongside the current Josh Kirby/Paul Kidby covers so there is something for everyone! The Witches collection, Small Gods and the Wizards series are available now, while the Death books will be released in October.
To celebrate #50YearsofTerry we also released our spectacular 'Anniversary Edition' Great A'Tuin Figurine. This bigger and more beautiful version of our signature bronze finish Discworld model  represents our unique relationship with Terry Pratchett and his incredible creations for which we are forever thankful.
Sculpted in fantastic detail by Rich Kingston in our 30th year of creating Discworld magic, this stunning Star Turtle marks three decades since Terry Pratchett gave Bernard and Isobel the rights to produce the first-ever Discworld merchandise with a figurine of Rincewind as our former company Clarecraft. The cowardly 'Wizzard' was the first in an extraordinary series of Discworld figurines and collectables that made us the original Discworld merchandisers and model makers!
This year has been a scramble uphill with scraped knees to get on top of the challenges that came with Brexit and Covid-19. We may not have been able to put many new items into creation, but we hope you enjoy those that we do have to offer! Somehow we have managed to release a new Luggage T-Shirt, Anoia and Gimlet's Delicatessen Tea towels, Death & Company Puzzle and print . . . not to mention Discworld Stamps. There will even be 'flaming hot' and 'epic' new jigsaw puzzles coming VERY soon!
Our proudest pandemic achievement however is the Nac Mac Feegle's Big Wee Alphabet Book, created by our own Ian Mitchell and collaborator David Wyatt.We've wanted to create another Discworld publication for some time now, and the Big Wee Alphabet Book is our first effort since The Compleat Discworld Atlas – our final collaboration with Terry – released the year he died in 2015. We are very thankful to Narrativia for enabling and supporting the Big Wee ABC book for Big Jobs and Wee Scunners alike!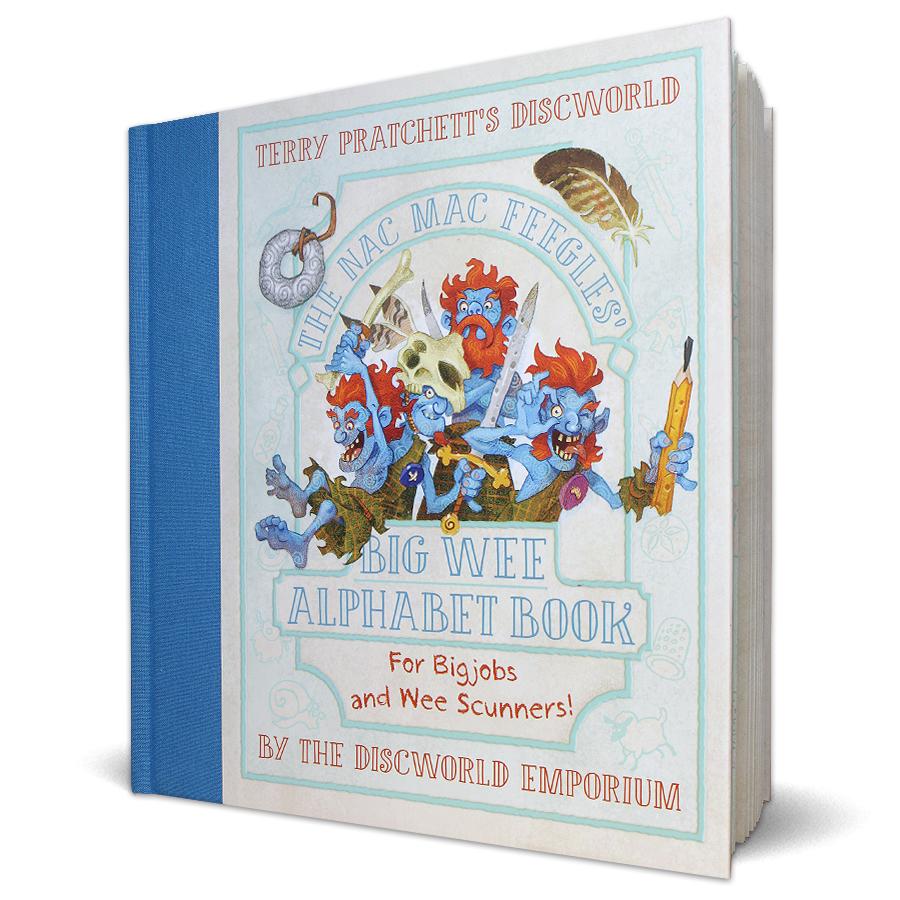 After a couple of very challenging years, Terry's publication anniversary has brought us a year full of joy and reasons to be cheerful. The year promises to be even more jubilant yet, as we also have the Sky Cinema adaptation of The Amazing Maurice to look forward to this Hogswatch along with numerous spin-off book releases and merchandise, and the return of the Discworld Calendar which was sadly absent in 2022. Praise be to Terry's own publishing house Dunmanifestin, who took up the mantle to produce a beautiful calendar for 2023 with artwork by Paul Kidby!
Most notably,  Terry's biography A Life With Footnotes and Emporium Directors Reb and Ians' second child are due to emerge in the same week, so it's going to be a particularly special, and even busier time here at the Emporium as we head towards Hogswatch
. . . but what a time to celebrate our past and future as part of the Discworld family!
We hope you enjoy exploring our new home, and sharing the magic of Discworld with us as we continue to celebrate #50YearsofTerry!
Don't forget to keep sharing our wares on the socials, and tag us @DiscworldEmporium on Facebook and Insta, and @DiscworldShoppe on Twitter.
THE TURTLE MOVES!