Terry Pratchett & Discworld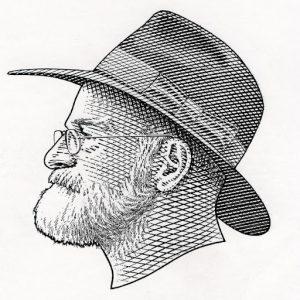 Once upon a time, there was a multi-million selling author called Sir Terry Pratchett…
Born in 1948 in Beaconsfield Buckinghamshire, Terry began his writing career at the library. He wrote his first book, The Carpet People, aged just 17 and as a journalist for the Bucks Free Press and Bath & West Evening Chronicle, wrote copious newspaper columns and short stories. While Press Officer for the Central Electrical Generating Board at Hinkley Point in North Somerset, Terry wrote Strata, Dark Side of the Sun and began his first forays into Discworld….
The Colour of Magic was published in 1983 and so began a prolific literary phenomenon. Discworld spans an incredible 41 books while there are over 40 companion volumes and non-Discworld titles to enjoy.
With its beginnings in fantasy satire, the Discworld series evolves to explore themes of the human condition, tackling issues of race, mortality, gender, religion, class and conflict, punctuated with Pratchett's exceptional wit, and garnished with the magic of fantasy.
Discworld is one of richest landscapes in literature, with a cast of literally thousands of characters. Terry's main protagonists such as Granny Weatherwax and Nanny Ogg, Death, Sam Vimes and the City Watch, not to mention Rincewind and the Wizards of Unseen University enjoy multiple appearances throughout the series, and books can be read in any order, although there is certainly joy to be had in reading each book as it was published!
Renowned as a mirror to our own world, Discworld will take you on adventures that will have you laughing out loud one minute, and solemnly contemplating the trials of life the next. As profound as it is funny, Discworld also brims with references from Terry's encyclopaedic mind that will often require many re-reads to recognise. Discworld is an addictive tapestry of hilarious and heartfelt narrative and characters that you will want to visit again and again!
In our three decades experience of creating Discworld souvenirs and meeting fans from all around the world, we can distinguish no clear favourites in the Discworld canon. There is a Discworld book for everybody, and a particular book can be beloved for all manner of personal reasons. Profound but not preachy, gritty but never too graphic, Terry's books bring comfort and escapism to a wide audience from all walks of life. For the uninitiated, a first step on Discworld can seem somewhat
daunting, but we can only recommend taking the plunge and getting swept up in the wonderful world of Terry Pratchett!
Terry became Britain's bestselling author of the 1990's and remains one of the most prolific and distinguished authors of all time, selling over 85 million books worldwide in 37 languages. He was awarded ten honorary doctorates, appointed Officer of the Order of the British Empire in 1998 and knighted for 'Services to Literature' in 2010. A champion of social Justice in life and on the page, Terry was also an avid advocate for wildlife conservation and a voice for those living with Alzheimer's and memory diseases through his documentaries, interviews, and charitable work. He completed his final novel and the last book in the Discworld canon, The Shepherd's Crown, in 2014.
After a long battle with Post Cortical Atrophy, Terry succumbed to the 'Embuggerance', taking a walk with Death on March 12th 2015 aged 66. He lives on in the books on our shelves, and in our wonderful memories of the precious times that he shared with us.
"A man is not dead while his name is still spoken." – Terry Pratchett