HAPPY NEW YEAR DISCWORLD FANS!

As decreed by the arbiters of Discworld, 2018 shall forever be known as The Year of The Justifiably Defensive Lobster. And so, with the year of the Backwards Facing Artichoke firmly behind us, it's time to glance back over our shoulder to reminisce about a year that brought us many celebrations of our favourite author, and what a Terry-fic year it was!
The year began with confirmation that Terry and Neil Gaiman's apolcalyptic collaboration Good Omens was to become a six-part series for Amazon and the BBC, due to air in 2019. News of Amazon and BBC Studios' adaptation was tantalisingly teased throughout the year with casting revealed to boast a 'heavenly' swathe of acting talent. We can look forward to David Tennant playing Crowley, Michael Sheen as Aziraphale, Josie Long as Agnes Nutter, Jon Hamm as Gabriel, and Jack Whitehall as Newt, with fellow cast members including Adria Arjona, Miranda Richardson, Reece Shearsmith and Anna Maxwell Martin. Filming got underway in the Autumn with executive producers Rob Wilkins and Neil Gaiman providing behind-the-scenes sneak peeks from their via their Twitter feeds @TerryandRob and @NeilHimself.
In Febuary Terry was brought back by Charlie Russell and the BBC in a unique and tear-jerking exploration into the life and times of our favourite author. Terry Pratchett: Back in Black, was 'the fourth instalment in the Terry Pratchett documentary trilogy' and was a unique farewell presented by Terry himself through the uncannily accurate acting skills of Paul Kaye and with poignant unseen footage recorded with Terry prior to his walk with Death.
Terry also became the star of his own exhibition when Terry Pratchett: Hisworld opened at Salisbury Museum in September. Curated by finds officer Richard Henry, aided and abetted by Rob Wilkins, Paul Kidby, Rhianna Pratchett and the estate of Terry Pratchett to mention but a few, this powerful literary exhibit was a triumph of A'Tuin-like proportions. Terry's self-depreciating nature, creativity, sense of fun and love of learning shone brightly as the author himself guided visitors around the exhibits in his own words via quotes gleaned from the may interviews, writings and recordings he made over the years.
 Expertly, sensitively and humorously curated, Hisworld was truly the highlight of our year living and breathing Discworld – hat a celebration of the man in the Hat! Closes Sunday January 14th.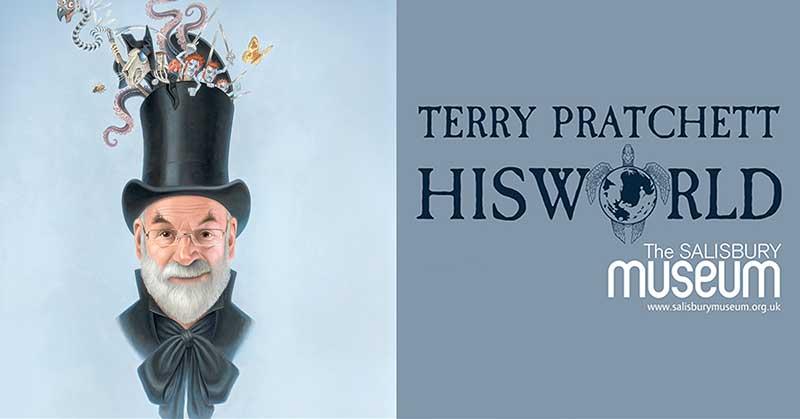 THE YEAR IN BOOKS!
2017 also saw a flurry of Pratchett publications with host of special editions and new titles. The Tiffany Aching series enjoyed two new style treatments, with the release of the gorgeous Paul Kidby-embellished Gift Edition hardbacks and bright new paperbacks illustrated by Laura Ellen Anderson. Raising Steam finally became available for collectors of the black cover paperbacks, and a re-release of The Illustrated Eric united Josh Kidby and Pratchett's imaginations on the page once again. The Discworld Collector's Library hardbacks were brought closer to completion with the publication of Thief of Time, Night Watch, Monstrous Regiment and Going Postal, our bestselling books of the year!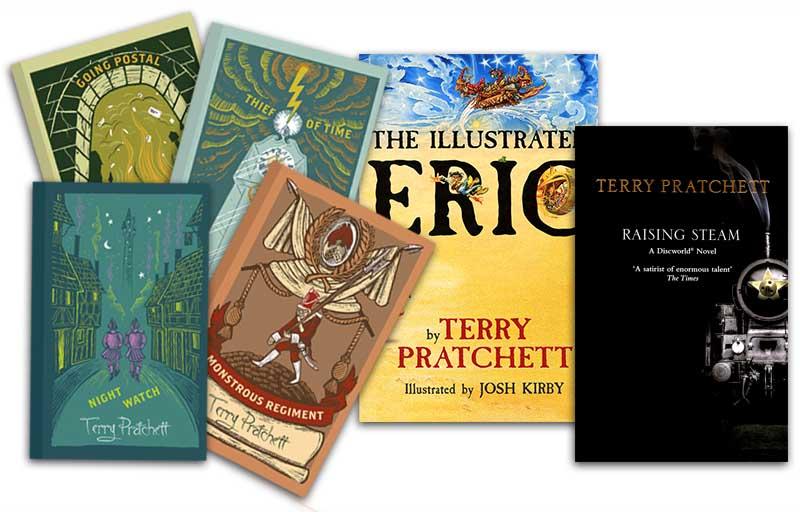 Father Christmas's Fake Beard, a festive collection of short stories from Terry's time as a newspaper journalist, was unleashed in two glorious hardback editions in October, while The Discworld Imaginarium, Paul Kidby's epic compendium of illustration and artistry provided a fitting finale to a year of Terry with the entire cast of Discworld brought to life with nib and brush in one spectacular coffee-table tome.
Of course, books are at the heart of the Discworld Emporium and we have been overwhelmed by your support in choosing to purchase Terrys work from us. While it's hard for a small booksellers to compete with larger retailers, we are so very lucky humbled to have such a loyal booklovers amongst our customers. You can be sure that we'll continue to ensure that every book is picked and packaged with care and reverance!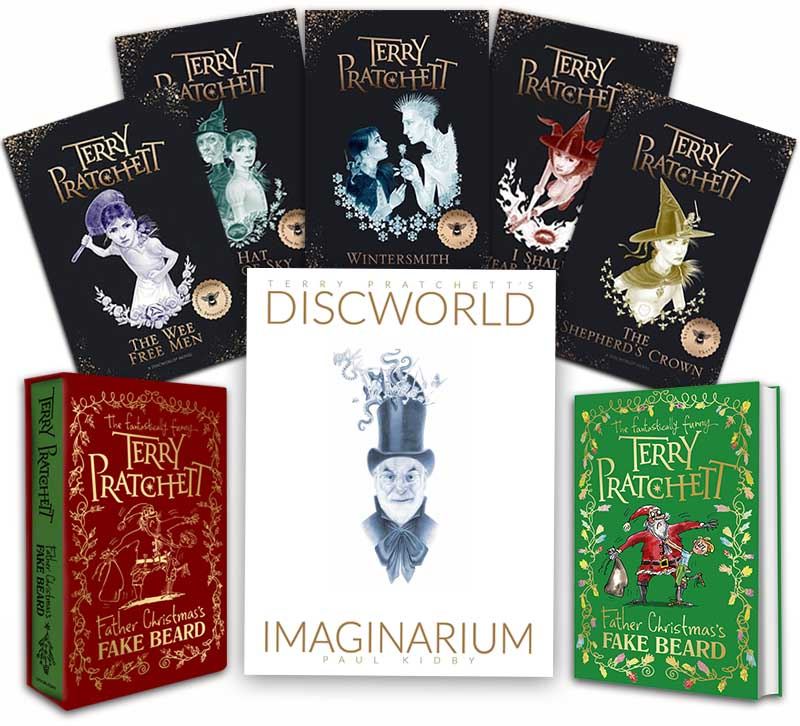 THE YEAR IN STAMPS!
Some of our favourite Discworld Stamps emerged in the year of the Backwards Facing Artichoke (of course we may be a smidge biased). Our chief designer Ian spearheaded a wide variety of designs celebrating a variety of locations and concepts from around the Disc, with collaborations from with Pratchett book illustrators & Emporium guest artists David Wyatt and Peter Dennis. The year kicked off with the traditional annual launch of the Ankh-Morpork Definitives, those iconic stamps created by Moist Von Lipwig in the pages of Going Postal comprising the Halfpenny Post Office, Penny Patrician, 2p Coat of Arms, 5 and 10p Morporkias, $1 Tower of Art and 50p Cabbage Field. There followed (in no particular order) issues from the Seamstresses' and Thieves' Guilds, from Klatch, Big Cabbage, Octarine Grass Country, Fourecks (XXXX), and from the the Agatean Empire with a stunning 2 Rhinu stamp featuring The Last Emperor Ghengiz Cohen.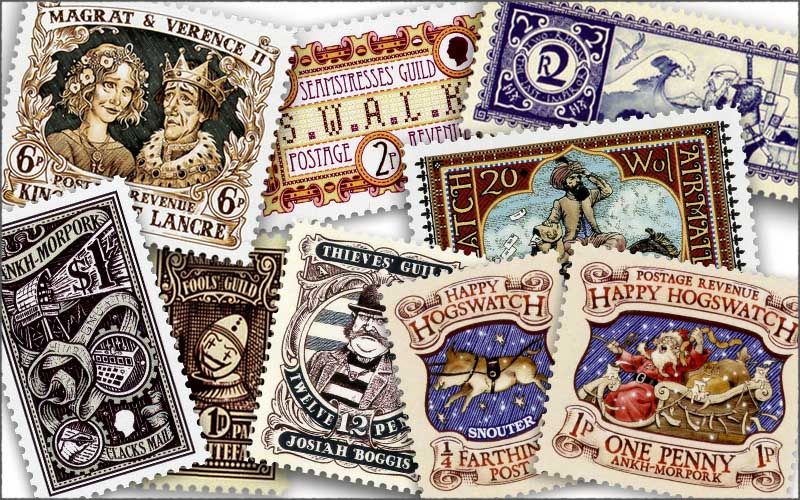 Special super-limited releases for 2017 included the Fools' Guild Hall of Faces sheet, Discworld Stamps 13th Birthday minisheet, the spectacular Unseen University Octogram, and of course our Hogswatch issues featuring the Hogfather and his porcine-powered sleigh. We also released 12 editions of our Little Brown Envelope, a traditional 'lucky dip' assortment of Discworld Stamps, each themed to introduce news issues.
To find out more about Diswcworld Stamps and learn how Going Postal began a philatelic phenomenon visit our History of Discworld Stamps!
THE YEAR IN OTHER DISCWORD WARES!
Other Discworld merchandise releases from the Emporium included our Death of Rats and Librarian figurines, beermats from the mended Drum & fellow Discworld drinking dens, Turtle Moves Bumper Sticker and Death (with cat) Discworld plush – the Grim Reaper has never been so cuddly!
2017's apparel collection introduced the wonderfully naughty Hedgehog Song Book Bag, and our Death of Rats and 'I Could Murder A Curry' T-Shirts which feature original artwork created exclusively for us by Joe Mclaren – the man behind the Discworld Collector's Library Edition book covers. The bestselling addition to our clothing range was undoubtedly our Discworld socks featuring A'Tuin, L-Space and Death motifs –  Polly Perks would be proud!
The Emporium also collaborated with Joe to create a fabulous set of Discworld Greeting Cards with designs including Dibbler, the Lancre Witches, Death & Death of Rats, the Hogfather, Librarian and Errol the swamp dragon!
Our most ambitious project of the year was our depiction of the Great Library at Unseen University for our latest Discworld Jigsaw puzzle and spectacular art print. Having fallen in love with the Librarian all over again during the creation of our figurine, we teamed up with David Wyatt to bring the UU's multidimensional book haven to life, which you can read about in our previous blog post HERE.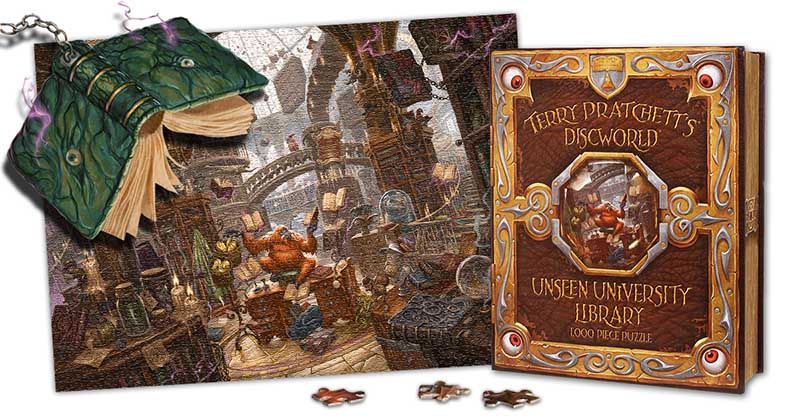 2017 was our busiest year for online orders and visitors to our 'real' shop (or should that be 'unreal'). We shipped books and Discworld goodies to Pratchett fans in previously uncharted territories including Chile, Peru, Serbia, Malta, Hawaii, South Korea, HongKong, Dubai and Qatar. It was also a bumper year for Discworld conventions, with the North American, Australian, Irish and German Discworld conventions providing international celebrations of all things Terry Pratchett. Our bonkersly busy year meant that we were unable to take our travelling shop on the road to peddle our wares, but we were able to partake via video link and recorded message and Emporium founders Bernard and Isobel Pearson flew to Cork to enjoy IDWCon as guests of honour. We look forware to making up for our absence this August at the Uk Discworld Convention in Warwick.
And so, as we hurtle full steam into the Year of the Justifiably Defensive Lobster, we would like to thank you for your kind custom and support throughout 2017 and for helping us to keep the turtle moving – you really are the best customers a little literary shop could ask for! We are especially grateful to those who braved the milage to make the Pratchett Pilgrimmage to the Emporium itself. The Hisworld exhibition in Salisbury has brought many fresh faces to Wincanton and introduced us to many new Discworld devotees with wonderful anecdotes and tales of the the man in the hat  to treasure. We hope to meet many more of you in the year ahead.
Here's wishing you all the best & many happy Pratchett reads for 2018, may The Lady smile upon us all!
Mind how you go.