The Discworld Emporium's Big Fat Review of the Year 2019

HAPPY NEW YEAR ONE AND ALL!
The new year has well and truly begun and a fresh decade has dawned. Terry's list of Discworld year names continues to give us humorous titles to mark the passage of time, and 2020 shall henceforth been known on the Disc and to us fans as THE YEAR OF THE CONDESCENDING CARP!
As we plunge head-first without a crash helmet into 'interesting times' let us wistfully glance back over our shoulder at what we got up to in The Year of the Incontrovertible Skunk we get too close to the Red Star…

A YEAR OF GOOD OMENS!
Of course we've already enjoyed one apocalypse as 2019 began with bubbling anticipation for the adaptation of Terry Pratchett and Neil Gaiman's cult collaboration Good Omens!
First broadcast in May on Amazon Prime, Good Omens stuck faithfully and suitably quirkily to the beloved book and was a visual extravaganza bursting with comedic screen stars including the seraphic Michael Sheen as Aziriphale and the devilishly good David Tennant as Crowley. Good Omens has now already won the Comedy.co.uk award for Best TV Comedy Drama and Best Comedy Drama of the Year 2019!
A host of divine editions of Pratchett and Gaiman's book and spinoff publications were released to accompany the series including the official Good Omens TV Companion, the Good Omens Script Book, BBC Radio Play and TV tie-in paperbacks along with the glorious Illustrated Good Omens with artwork by Paul Kidby!
THE YEAR IN STAMPS!
2019 was a celebratory year for Discworld Stamps, as we reached our 15th year of 'Flately', as Terry so named the world of Discworld Stamp collecting! Nothing seemed more fitting than putting the profile of Sir Terry Pratchett on his own Stamp, the Penny Pratchett! We commissioned master line artist Brian Delf to create Terry's portrait for this special issue which was available in a limited edition presentation sheet and first day cover. 
There was of course a new collection of Definitives as designed by Moist Von Lipwig in Going Postal, plus offerings featuring the sublimely ridiculous architectural creations of B.S. Johnson. The major Guilds enjoyed sponsoring a series of stamps featuring their respective coats of arms, while Discworld deities Offler, Blind Io and Anoia joined our gods collection of Discworld Stamp issues illustrated by Matthew Green.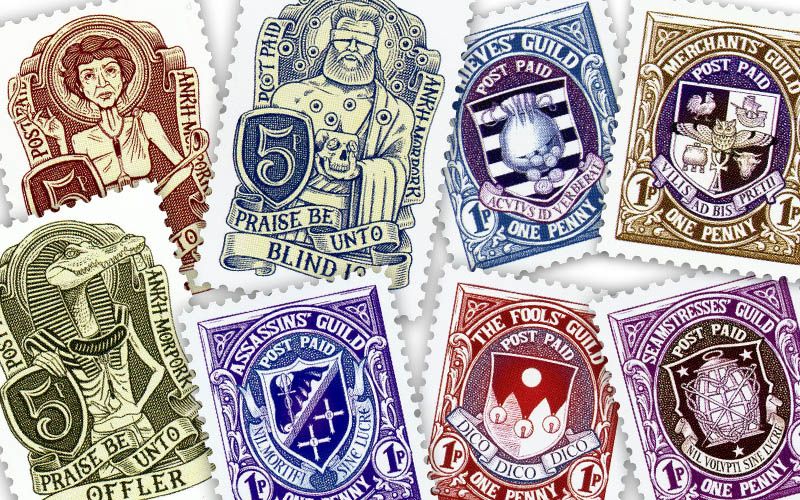 Other Ankh-Morpork establishments represented on stamps in 2019 included the Lady Sybil Free Hospital, The Sunshine Sanctuary for Sick Dragons and the New Ankh-Station from Terry Pratchett's Raising Steam which graced the year's coveted Five Dollar Blue Triangle.
We couldn't commemorate fifteen years of Discworld Stamps and Terry Pratchett's Going Postal without celebrating the Postmaster himself, so in August Moist Von Lipwig featured on his own five pence stamp illustrated by David Wyatt!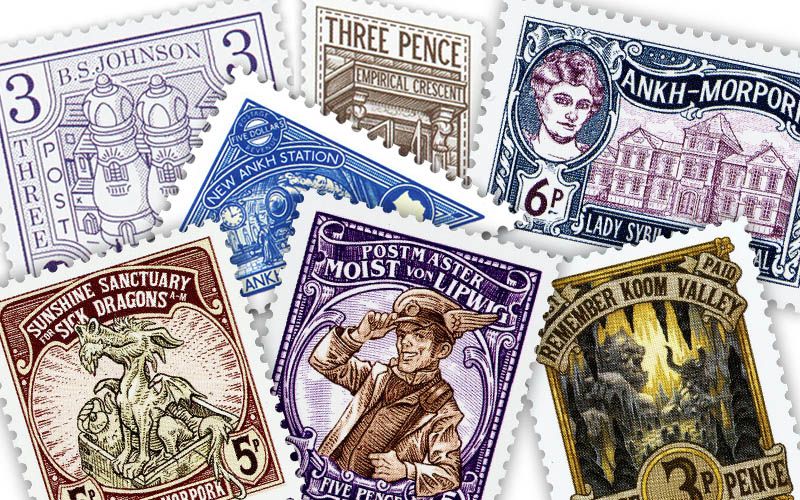 The year in stamps concluded with a traditional Hogswatch offering from the Ankh-Morpork Post Office, with a triptych of festive issues depicting the famous Grotto at Crumley's Department Store from Terry Pratchett's Hogfather. Each stamp featured on a beautiful whole sheet and on a first day cover complete with a sumptuously illustrated ticket entitling Collectors to sit on the Hogfather's knee!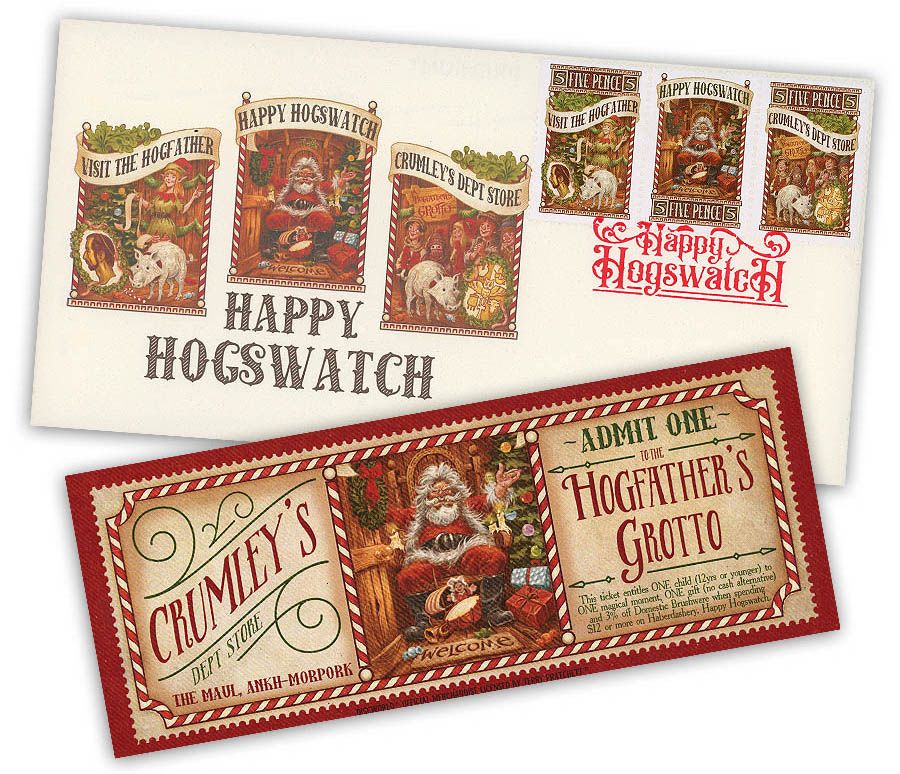 THE YEAR IN BOOKS!
Along with a bevvy of Good Omens publications, there was a crop of new Pratchett book editions released last year including new paperbacks of Terry's children's books Dodger and Nation with bright and beautiful cover artwork by Amelia Fang author Laura Ellen Anderson. Snuff and Raising Steam were finally released in beautiful Discworld Collector's Library Editions in November, thus completing the 'adult' series of this handsome collection of hardback Discworld books,
Discworld diaries of yore were compiled by Stephen Briggs into one beautiful hardback volume with revised, revamped and redesigned artwork by Paul Kidby to create The Ankh-Morpork Archive Volume I – a guidebook to Ankh-Morpork's Guilds, institutions & environs as written by Stephen Briggs and Terry Pratchett in the years 1998, 2000, 2002 and 2007 respectively.
The official Discworld Diary had a change of identity in 2019 to become the Discworld Journal. Gone are the restraints of time and space in favour of a perennial jotter for your memos and musings, full of illustrations and quotes from favourite Discworld characters. The first such edition was the 'Death and Friends' Discworld Journal, compiled by us and illustrated by David Wyatt – ideal for jotting down your life story or 'immortal' prose!
The Discworld Calendar soon followed which was themed on Paul Kidby's fantastically depicted Discworld Destinations. We also happily acquired stock of the official Terry Pratchett: Hisworld Exhibition Companion, the story of our favourite author, told through the objects and artefacts on display at the Terry Pratchett: HisWorld Exhibition in Salisbury 2017 – an everlasting exhibition for you to enjoy at home whether you were there or wanted to be!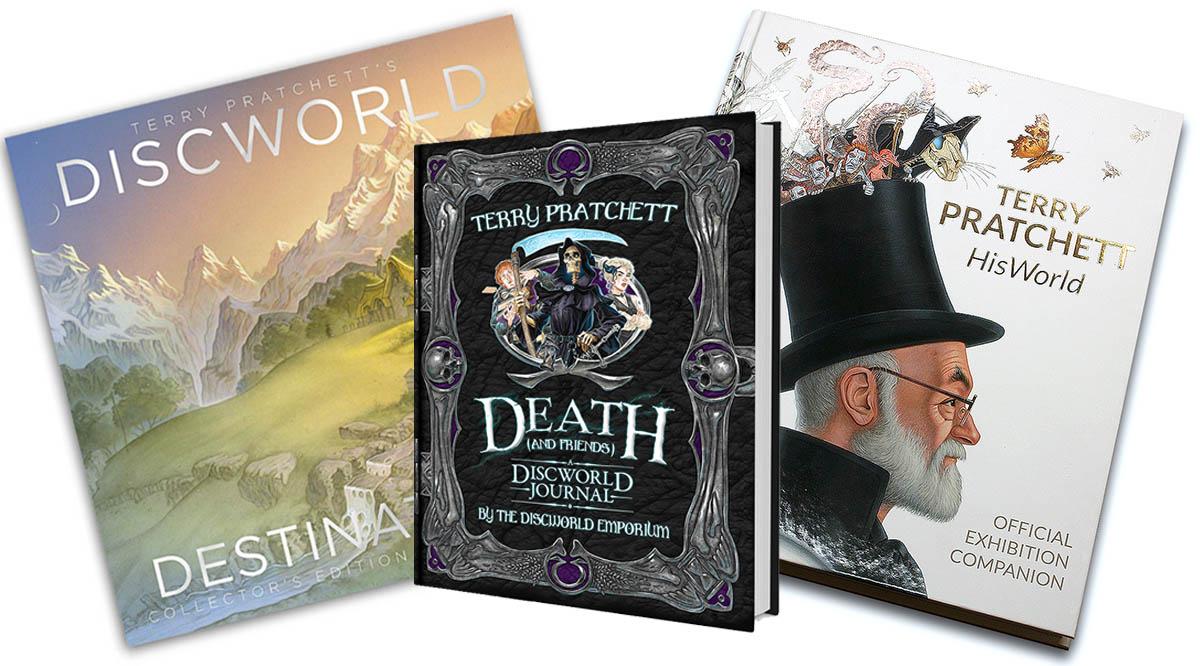 THE YEAR IN DISCWORLD MERCHANDISE!
There were stylish new Discworld items released last year, starting with our suitably dark Assassins' Guild Alumni T-Shirt, followed by our most ambitious piece of Jewellery to date, the Discworld Necklace! This stunningly detailed and oh so elegant rendition of Great A'Tuin is double sided and available in sterling silver or plated in gold, gold gold!
Puzzle addicts were treated to TWO Discworld Jigsaw puzzles, featuring incredible illustrations of The Mended Drum and Granny Weatherwax's Cottage respectively., each designed by us and illustrated by David Wyatt. Both images are also available to own as big and beautiful art prints. Halloween saw the release of more bewitching wares with our 'Blessings Be Upon This House' lean-print featuring Nanny Ogg and Granny Weatherwax, also by the talented Mr Wyatt.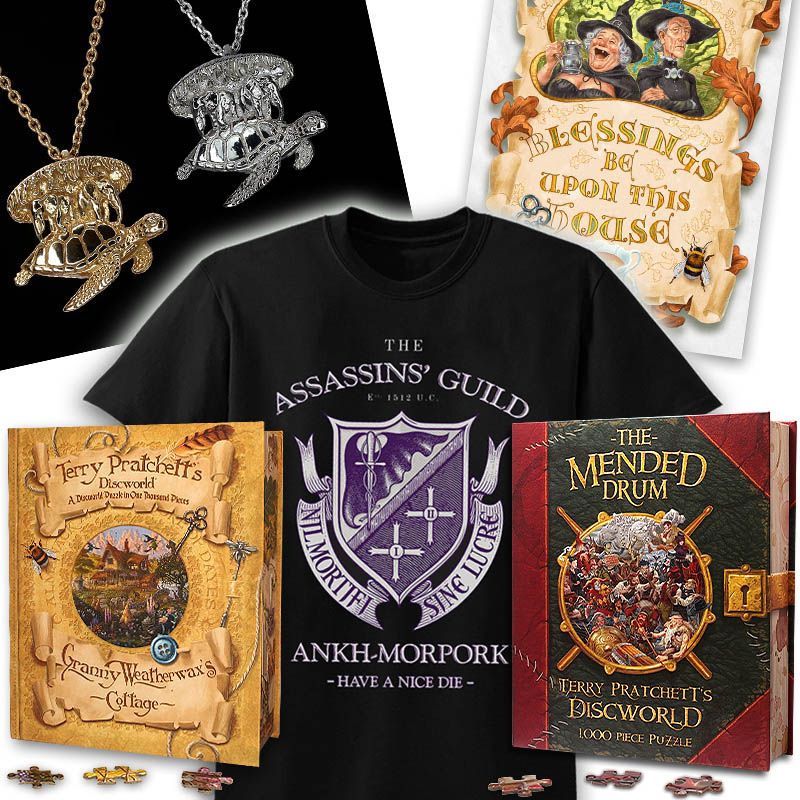 One of our favourite items to conclude the year's offerings was the Ankh-Morpork City Watch Badge – Special Constable's Edition. Sculpted by master jeweller Bethan Williams and forged by one of the UK's oldest pewter companies A. E. Williams established in 1779, this magnificent Watch badge is a truly authentic prop-quality replica of a badge that has seen years of noble service under Commander Sam Vimes, Angua, Carrot & co. on the mean streets of Ankh-Morpork! – Fabricati Diem Punc!
A YEAR TO 'WATCH'!
Speaking of the Watch, the cast for the forthcoming adaption of Terry's City Watch books by BBC Studios for BBC AMERICA was revealed last year. It has become clear that the production is very much 'inspired by' rather than 'based on' the original texts, but the proof is in the 'watching' and we truly hope that this eight-part comic thriller written by Simon Allen will still be a lot of fun.
Nonetheless the Watch has certainly made waves in the fan community with its bold stylings and deviations from the source material, so for the concerned and confused we heartily recommend reading an article from our mates at Discworld Monthly which charts a fulsome history of this adaptation…
Regardless, there couldn't be a better time to get reacquainted with the watch we all know and love, so we've been working on our own faithful depiction for a new puzzle and print due to launch this year. In the meantime, go and pick up a Pratchett to read, or treat yourself to a new edition of Guards! Guards! Men at Arms, Feet of Clay, Jingo, Night Watch, Thud!, The Fifth Elephant or Snuff! 

AAAANNND FINALLY… Perhaps the best new arrival of 2019 came in the form of a small human! Ian and Reb welcomed their first child to the world in June, and we're all rather smitten with our new mascot!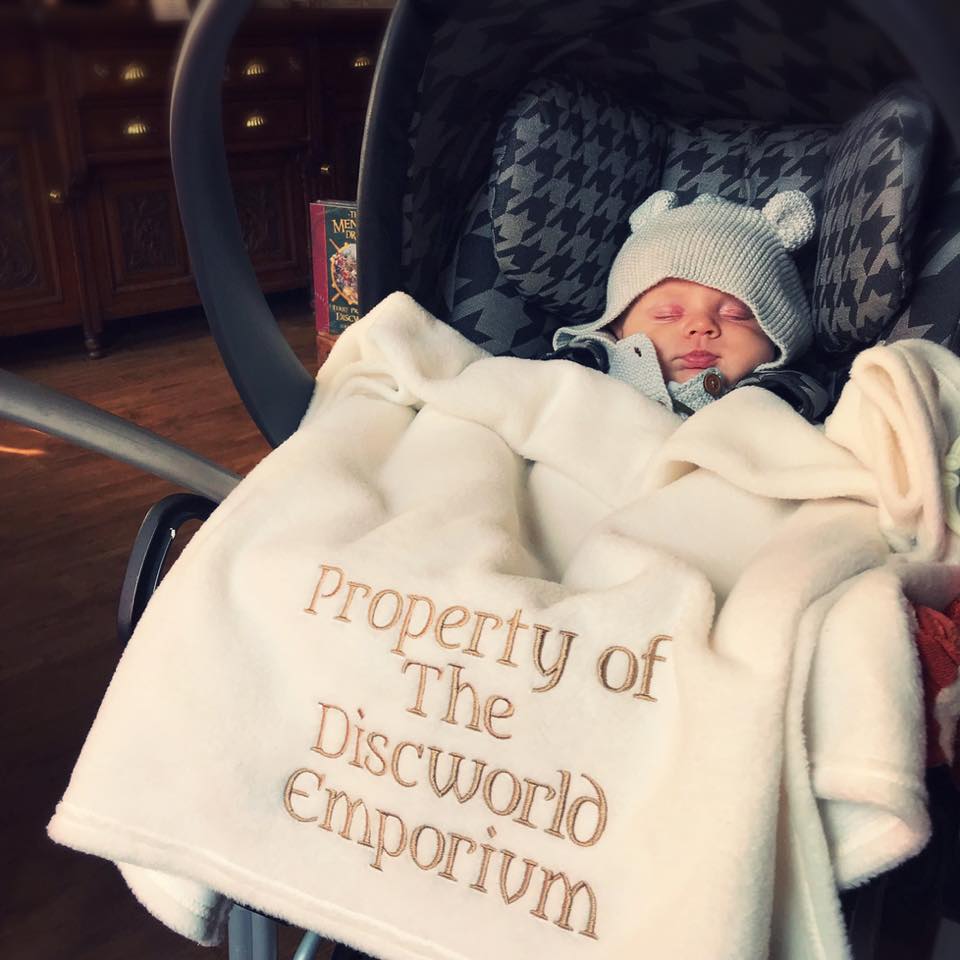 Being such a tiny team, this little charmer has meant that we've been a bit understaffed and overstretched for a while, so we praise the gods for our fabulous staff for keeping the cogs turning and thank you all for your support and understanding in what was a most exciting and exhausting year!