"Through the fathomless deeps of space swims the star turtle Great A'Tuin…"
Sculpted by Emporium associate artist Richard Kingston, this magical model of Great A'Tuin showcases our illustrious Discworld heritage, and marks a return to our roots producing figurines & objet d'art.
Produced in a glorious bronze and verdigris finish, it will sit elegantly on any bookshelf, look at home in any nook and last for generations if looked after. From the resolute expression to the stylish finish, it has an elegant understated presence and feels beautiful in the hand.
Each piece is hand cast and finished locally by our team of professional craftsmen, and features our makers' mark inset as a little button on the base, allowing A'Tuin to rest at an angle that really portrays a sense of movement through the cosmos.
The piece is cast in bronze resin, coated with real micro-fine powdered bronze. You should care for it in the same way as your other priceless bronzes. If left indoors it will need no particular extra care other than the occasional dust, but you can treat it to a gentle wax polish once a year or two if you wish to keep A'Tuin sparkling.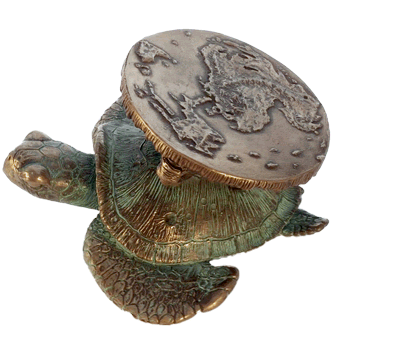 Measures approx 120mm across
Cast in real bronze coated resin. Presented in a Discworld Emporium Gift Box.