HAPPY NEW YEAR ONE AND ALL!
The mystic thingies have been wossnamed, and the omens are good! The year known to us as 2019 has been officially dubbed…THE YEAR OF THE INCONTROVERTIBLE SKUNK!
As we begin a year that will bring us the long-anticipated adaptation of Terry Pratchett and Neil Gaiman's apocalyptic collaboration Good Omens, we thought we'd glance backwards before the world ends at what we got up to in the year of the Justifiably Defensive Lobster…
2018 began with an ending. The closure of the award-winning Terry Pratchett: Hisworld Exhibition in Salisbury marked an incredibly successful, yet suitably humble, celebration of our favourite author. Tens of thousands of Terry Pratchett fans descended on Salisbury Museum for a glimpse into his life behind the books with exhibits of private memorabilia and paintings providing an intimate portrait of the man in the hat.
We were privileged to have been a part of the exhibition's creation, providing notepaper from the Ankh-Morpork Post Office for the memory wall, designs for coat hooks, and items of memorabilia on display.
 THE YEAR IN STAMPS
Discworld Stamps gave us new issues from exotic lands including Tsort, Djelbeybi, Borogravia, Uberwald, Hersheba, Quirm and the Chalk, The City Watch were also celebrated with the Pseudopolis Yard Watch House 4p.
Our Hogswatch offerings celebrated the theme of 'Letters to the Hogfather', comprising two heartwarming 2p issues featuring a little match girl and young dwarf penning their Hogswatch wishlists,  along with a jolly 5p issue featuring the Hogfather himself were and were illustrated by our collaborator extraordinaire David Wyatt.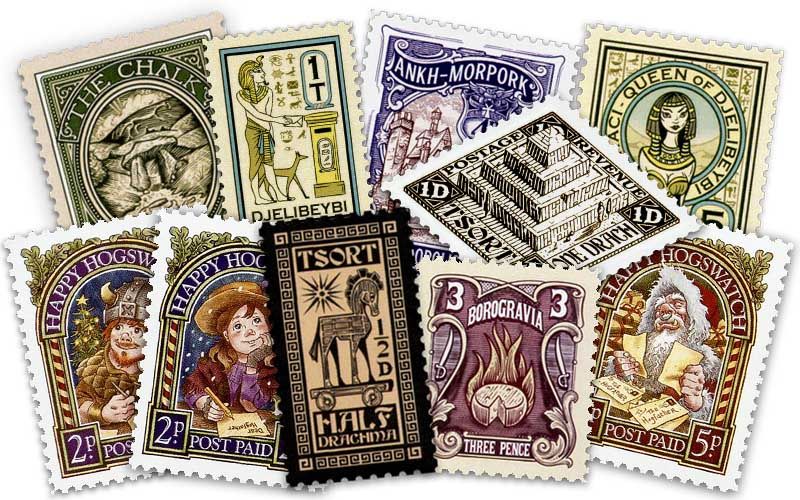 Closer to home the Ankh-Morpork Post Office introduced a beautiful set of stamps from the Unseen University. The Farthing, Penny and Penny Farthing issues feature beautiful linework illustrations of Ridcully, UU Coat of Arms, and the famous statue of Alberto Malich by the talented new guest artist Matthew Green. Matthew's artwork can also be seen gracing the menu of two Michelin Star restaurant L'Enclume in Cumbria, a testament to our fine taste in illustrators!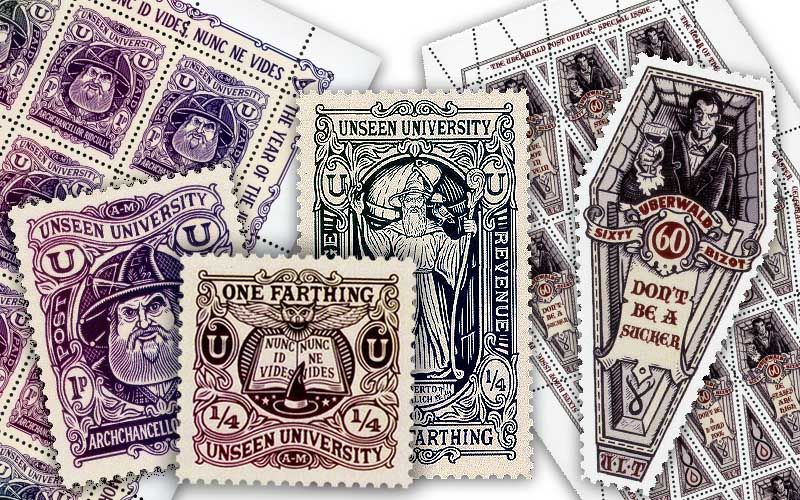 A YEAR OF CELEBRATION! 
In June we visited the Chalke Valley History Festival in Terry's home village Broadchalke, where Paul Kidby's lifesize rendition of Evil Harry Dread's Shed of Doom lead to a recreation of Terry's office and various Kidby artworks. The shed provided a fitting tribute to a local hero at a festival held in Terry's back garden with talks by Rob Wilkins.
Festival season continued Discworld-style with our bestselling T-Shirt featuring The Band With Rocks in from Terry Pratchett's Soul Music. This was rocked by Terry Pratchett fans all over the globe at music with rocks in festivals, while our Mended Drum shirt also proved a smash hit at festival bars and pub gardens throughout the summer! Thanks to those who shared pics of yourselves rocking your Discworld tees!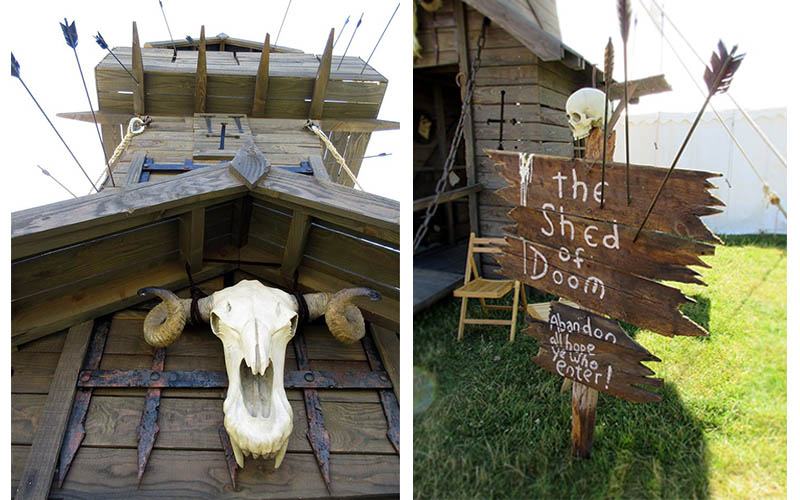 August saw the Discworld Emporium's travelling shop hit the road to attend the International Discworld Convention in Warwick, where Ian, Bernard and Reb flogged our wares and took part in panels and talks that explored such topics as the origins of the Emporium, reminiscences of our time with Terry Pratchett, and our Discworld creations past and present. It was a pleasure to celebrate Discworld with friends old and new, and revel in the joy that Terry Pratchett's books brings us all. We were also treated to sneak peeks of Good Omens and the fan-made Troll Bridge along with a script reading of the forthcoming Watch series for BBC America by writer Simon Allen ahead of its official public announcement in October.
At the end of November, our beloved Discworld turned thirty-five. This anniversary coincided with 'The Gathering of Loonies', an informal assemblage of fans held in Wincanton to kick off the festive season on what would have been (in Terry's lifetime) our annual Hogswatch celebration. It was very special to spend Discworld's Birthday with good friends, many in glorious Discworld costumes and many of whom have been making an annual pilgrimage to Wincanton since our doors first opened.
THE YEAR IN BOOKS!
The Johnny Maxwell trilogy was released Bright new paperbacks editions with cover artwork by Mark Beech who's illustration also graces the paperback of Father Christmas's Fake Beard -the third collection of Terry's short stories – released in October. The Amazing Maurice also had a revamp by Laura Ellen Anderson with a new characterful cover to tie in with her Tiffany Aching paperbacks.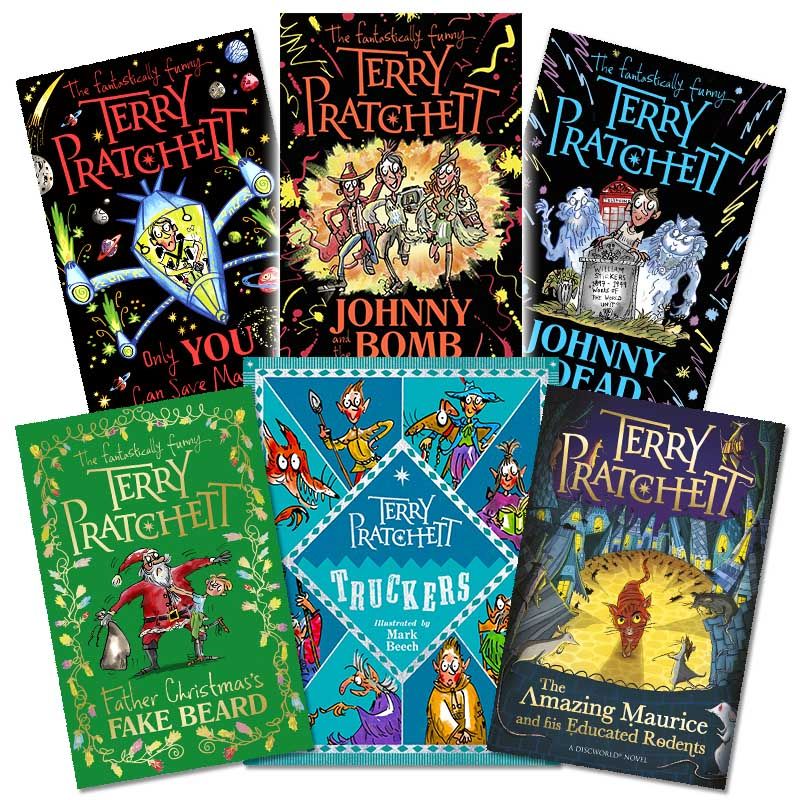 Our fourth official Discworld Diary was published in August by Victor Gollancz. For The Discworld Quiz Diary 2019 we trawled our archive of Discworld trivia to compile a Discworld Quiz that would satisfy both newbies and old hats alike! Tested by hardcore Pratchett aficionados, the Discworld Diary was shortly joined by the Discworld Calendar, full of imagery from Paul Kidby's compendium of illustrations the Discworld Imaginarium!
THE YEAR IN DISCWORLD MERCHANDISE 
The first product of the year was our bronze-edition Luggage figurine (and trinket box!), soon followed by our cast of 1000's teatowel bearing the names of as many Discworld characters as we could squeeze onto a small sheet of cotton. In March our simultaneously adorable and terrifying Luggage plushy scampered onto the scene, proving a best-selling companion for Discworld fans young and old! The Luggage also ran riot over our new Discworld Socks, released alongside our Feegle Feet and Assassins' Guild designs. The Assassins were also represented this year by our suave and sophisticated cufflinks – for style to die for!
Books are the heart, soul and raison d'etre of the Discworld Emporium, so it was long overdue that we introduced bookmarks to our range! Fate and the lady have conspired to bring us the talents of David Wyatt, who illustrated two sets of Discworld characters for our official Discworld 'Ookmarks'- for books with even more character! A set of ten traditional 'Ookplates' are also available to lay claim to your precious Terry Pratchett library!
There was a puzzling addition to our range in September when Death's Study was brought to 'life' for our third fiendishly difficult jigsaw puzzle. The Reaper man's inner sanctum joined the Unseen University's Great Library in our range of Discworld jigsaw puzzles illustrated by David Wyatt, designed to include a host of hidden details from Terry's books. With such a stunning image, we just had to make an additional art print for those who prefer their artwork in one piece!
Death also made an appearance as our latest Discworld figurine produced in our signature bronze finish, while the release of our Tiffany Aching Snowflake neckace and Hogswatch stocking were a fittingly festive finale to our range of Discworld merchandise for 2018!
The year of the Justifiably defensive lobster was another year of reaching previously unchartered territories with the word of Sir Terry Pratchett and our Discworld wares, and a year of exciting announcements about forthcoming televisual extravaganzas!
Rather fitting for a production full of zombies, vampires and werewolves, the official press announcement that the long-anticipated City Watch series has been given the green light arrived on Halloween! The Watch will be adapted from Terry's books by BBC Studios for BBC AMERICA, the company behind Killing Eve the current Doctor WHO as an eight part comic thriller Co-produced with Narrativia and written by Simon Allen.
Of course we are all looking forward to the end of the world this year, and back in July Amazon Prime Video gave us a behind-the-scenes sneak peak of Good Omens first shown at San Diego Comic Con, where Frances McDormand was announced as the "Voice of God" on stage by Neil Gaiman. Frances joins a stellar cast including David Tennant as the demon Crowley, Michael Sheen as the angel Aziraphale and Jon Hamm as the angel Gabriel for 2019's most hotly anticipated apocalypse! The star-studded cast also includes actors Anna Maxwell Martin, Josie Lawrence, Jack Whitehall, Miranda Richardson, Reece Shearsmith, Nicholas Parsons, Derek Jacobi, Steve Pemberton and Mark Gatiss.
As we trundle forth into the year of the Incontrovertible Skunk we would like to thank you for your continued support and for being the best patrons a little literary shop could ask for! We hope the year ahead is full of magic, and remember… in a world gone completely Bursar we can always read a Pratchett! 
THE TURTLE MOVES!